Top | Day 1 »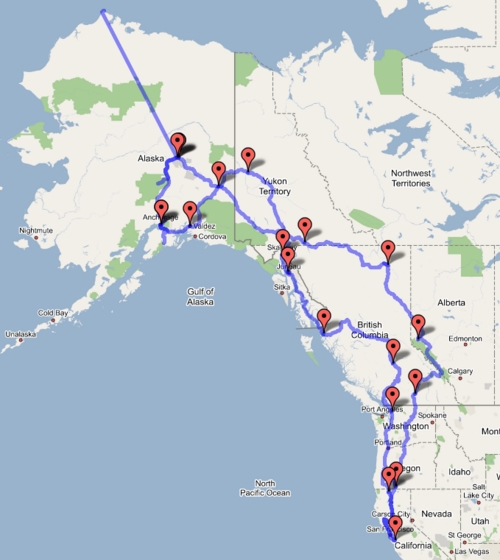 Introduction

The thought first started occurring to me right around the beginning of the year, as I made my daily morning commute northbound to work in Cupertino: What if I were to just get on this freeway and... keep on going, as far north as my Jetta will take me?

In other words, I wanted to drive the Alaska Highway. And see Alaska too, while I was at it; but mostly I just wanted to drive.

This wasn't really a new idea. In 1972, my parents had done the same thing: fresh out of college, they'd taken a job working at Denali National Park for the summer, my dad as a tour bus driver in the park (where they don't allow automobile traffic, a policy started that year), and my mom as a housekeeper. In order to get there they had to put all their belongings in storage and drive their orange VW squareback wagon up the 1000 miles from Berkeley to Dawson Creek, the start of the famous Alaska Highway, and then spend some two more weeks picking their way up the unpaved, springtime-thawing tundra for the 1500 additional miles to Fairbanks, never managing more than about 30 mph. With a young and frisky cat in the back.

They weren't in a hurry. They had to arrive on a certain date and not before, and so they could afford to take their time, making only 100 miles a day or so. The Highway was certainly a lot more rustic than it is today, and services fewer and further between; yet for them, it was an adventure they enjoyed so much they did it again the following year, in reverse (taking the Alaska Marine Highway ferry system up to work that year). And when they settled in northern California after their return trip and raised a family, the house was filled with little lurking souvenirs of a mysterious journey to Alaska that had once taken place: photos of Mt. McKinley and a lynx on the walls, closets full of slide carousels, a soapstone sculpture from the visitor center gift shop that burned to the ground that first summer, and Irma—the cat who rode to Alaska and back, twice—living to a ripe old age with us as I grew up.

So it's always been something nudging at the back of my mind, and my brother's as well: someday, we all hoped, we might be able to do the same trip they did back in the day. And yet it never really panned out, until suddenly in 2005 it grabbed hold of my mind. I needed a vacation. I wanted to do a road trip. And I wanted to see Alaska.

Today, the Alaska Highway is hardly the wilderness backwater it once was; it's all paved (though construction is necessary every year to repair damage from frost heaves and potholes), gas and lodging are never dangerously far away, and RVs ply the route almost exclusively instead of passenger cars—many boarded-up motels along the way attest to the soaring popularity of RV parks rather than the old roadhouse-and-cabins style of travel. But much of it hasn't changed at all: it's still unspoiled wilderness out there, with nothing in between the sparse little villages but endless trees and mountains, and of course caribou and mountain sheep and bears like you'll never see anywhere else.

But one thing that was never dreamed possible in 1972 was that one day, we'd be able not just to glean information on the towns along the road from The Milepost and hearsay, but to look up every town's street map on Google Maps, and even to visit each town's tourist-oriented website. My Web research probably dulled a lot of the sense of adventure inherent in this kind of trip... but I just couldn't resist. In any case, I was inspired in the planning by online travel logs of others who had done the trip before, such as Tim Vasquez and Shannon Key, driving from Texas, and Steve Munk, who did the trip in a Merkur XR4Ti. Like Tim and Shannon, I was drawn by the ads in The Milepost and my own fascination (I get it from my dad) with setting foot on geographical extremes, and booked a day trip up to the northernmost point on the North American continent—Barrow, Alaska—for the day after I had calculated I would arrive in Fairbanks. This assumed an average of 500 miles of driving per day (starting early, driving till night, and leaving room for sightseeing). Then I planned several days in interior Alaska, including (most importantly) a day in Denali National Park, taking a guided bus tour just like the one my dad drove in 1972-73. Then the route would head south into Anchorage, there to spend time puttering about the scenic Kenai Peninsula, and then to take a ferry (the Alaska Marine Highway) across Prince William Sound to Valdez. After that I wanted to take the ferry the rest of the way down the coast—but before getting there, I had two days to play with (given the immutable ferry schedule), and for those two days I planned a hard-driving marathon up into the interior once again on roads not yet travelled, over the Top of the World Highway, into Dawson City, and from there down the old Gold Rush route through Whitehorse and into Skagway on the coast. Then the ferry would take me back down south as far as Prince Rupert, on the British Columbia coast, and from there it would be a gradual return to civilization on the way home.

Naturally, this kind of trip would be foolhardly—not to mention boring—alone; so I enlisted my friend Paul, a Canadian living in Toronto, to come along and share the experience. He flew out to San Jose the night before we were to head north, and his navigating out of The Milepost and dutifully tallying all our expenditures took all the mundanity out of the trip and allowed us to enjoy the wild surroundings with nothing in the way but the incessant snapping of my Canon 10D. (Paul became an expert at changing lenses for me as I drove.)

The resulting products of the trip were nearly 3,500 digital photos, a GPS track log of each day's progress (which I used to stamp each photo with global positioning coordinates, using GPS Photo Linker), and a notebook full of handwritten journal entries, which I've transcribed for this site. You can download each day's GPS track log (in .GPX format) and use it however you wish. Also, if you save any of the photos, you'll find the GPS latitude, longitude, altitude, and pulchritude embedded in the EXIF tags; software like GPS Photo Linker or Visual Media Explorer (for Windows) will let you view any photo's location on a map. I won't, however, post all 3,500 photos. I want to leave something to the imagination.

Photo Equipment:


Canon EOS 10D

Canon 50mm f/1.8
(normal lens)

Canon 75-300mm f/4.0-5.6 IS
(telephoto)

Tokina 12-24mm f/4
(wide-angle)

Garmin eTrex Legend

On with the show...